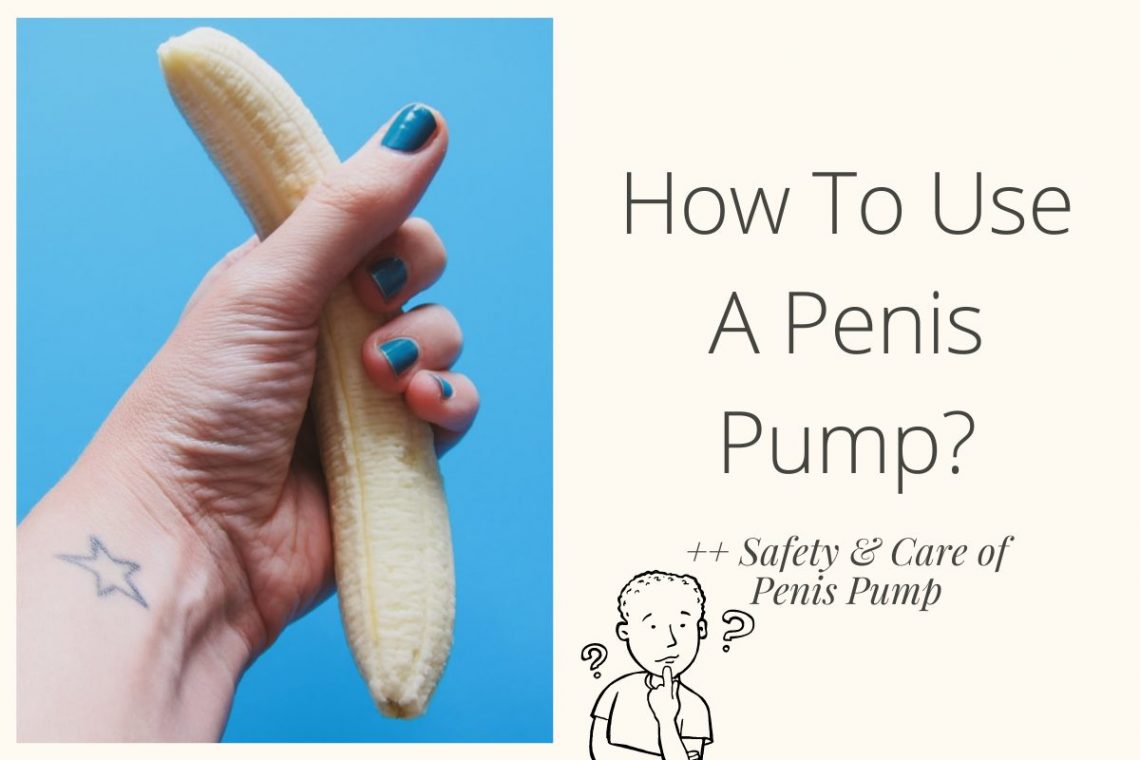 How To Use A Penis Pump? – Safety And Care Of Penis Pump Answered
If this is the first time you are using a penis pump, this is a great article to begin. In this article, we will go through the basic steps on how to use a penis pump, what you should expect to feel after using a penis pump, and how to clean a penis pump.
How do I use a penis pump?
Penis pump looks daunting at first glance and maybe fiddly at the first few uses. However, you should be able to get the hang of it once you are more familiar with it.
This is how you use a penis pump:
(Optional) Shave the pubic hair around the base of the penis to avoid getting them caught in the ring.
(If using a water-based penis pump), fill the tube with water
Fit the constriction ring around the bottom of the tube.
Insert your penis into the hole in the constriction ring till it fits at the base of your penis. Add some lube to reduce friction as you slide your penis in.
You can start the vacuum device to remove the air/water in the tube. This will cause blood to be drawn to your penile tissue, allowing it to be erect and hard. Go slow, as if you pump too fast, it may result in injury due to a rush of blood to the tissues in the penis.
Once you find the size and hardness is suitable for penetration, you can remove the device and proceed with your bed activity.
(Optional) You can wear a cock ring to maintain the erection and allow yourself to last longer in bed.
Always make sure that you do not feel any pain during usage. Stop immediately if you feel pain by activating the release valve to release the vacuum.
How long can I use a penis pump?
In most scenarios, the penis pump will come with an instructional manual for the recommended usage. Always stick to the advised duration to avoid injuries.
If no instructions are given, you can take this as a rule of thumb. Never use a penis pump and/or a cock ring for more than 30 minutes per session as it may cause lasting damages to the tissues and nerves in your penis.
For best results, you can use the penis pumps for 30 minutes daily, with a break every 10 minutes. It will help to improve penis health and makes it easier for you to get an erection more naturally.
What should I feel when using the penis pump?
Pain and discomfort on the first few uses of penis pumps are not uncommon. If you experience pain or discomfort, stop the use of the penis pump. You can always try again tomorrow and repeat the process. This is because the blood vessels in your penis may not be conditioned to handle the sudden blood flow.
Do not be disheartened and a couple of days or weeks of use of penis pump on a regular basis will help you attain an erection during use without pain.
The erection resulting from the use of the penis pumps may feel unnatural as the base of the penis does not get as rigid as compared to the rest of the shaft.
You might also feel like there is semen trapped in your penis when you ejaculate. Sometimes, you might feel that ejaculation can be painful.
How do I clean penis pumps?
Any components of penis pumps that are made of silicone or PVC can be cleaned with anti-bacterial soap and water. If there is a motorized component, you can wipe it down with an alcohol wipe.
Are penis pumps safe?
In general, as long as you stick to the instructions of the penis pumps, there should be no lasting effects or pain in your penis.
In fact, you can use it multiple times, provided each session lasts for not more than 30 minutes, and you let your penis rest in between each use.
Of course, if you do not use the penis pump correctly, there will definitely be side effects.
There is also the issue with the individual's health. If you have certain health conditions, penis pumps may not be suitable for you. In general, it is always best to consult your doctor on your suitability.
What are the side effects of using penis pumps?
If used incorrectly, you may experience some of the below side effects:
Numerous pin-sized red dots called petechiae covering the surface of your penis. This is due to the numerous blood vessels bursting under the skin when you pump too fast
Numbness or coldness or slightly bluish-purple skin. This is due to the constriction ring being too tight on the penis.
Pain or bruises on the penis. This is due to incorrect use of the penis pump or leaving the constriction ring on for too long.
Always listen to your body for any pain or discomfort and stop immediately if you feel uncomfortable.
Now that you are well-educated on how to properly use a penis pump, you can check out different types of penis pumps here and get one that you like best!